I had a really hectic week! My siblings flew in from Manila to pay us a visit! We showed them around and brought them to a few of the popular dining places around Singapore. It was a short 5-day visit, but it was time well-spent with our dearest fambam! :)
~o0o~
Okay, enough small talk... I just want to make a point... Because of the too much fun the Cookie family is having with the fambam, Wifey Cookie didn't have any crafty time, which explains why this is such a late post! And a double-taker on 2 of my DT project assignments. (Sorry, teammates.)
And so, here is my card -
Favourite Colour Combo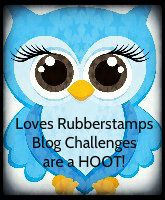 For me, it's Pink and Brown. There is something about this colour combo that makes me smile... always. Perhaps because it looks like sweet pastry? LOL!
For my card I used these materials, some of which are available at the
Loves Rubberstamps Store
for purchase. Laura ships internationally! ;)
Papertrey Ink's Daily Designs Sentiments - stamped sentiment
Jillibean Soup Alphabeans - stickers
Copics
for colouring the image in
~o0o~
The only condition is, it needs to be a Birthday Card.
The Seize the Birthday design team offers some inspiration and so hop along -
The Senior Design Team
The Design Team
We hope you link up your birthday cards because we always love to see what you create! :)
~o0o~
That's it for now. I hope you enjoyed this post. And we look forward to seeing your card creations on the challenge blogs! :)
It's me,