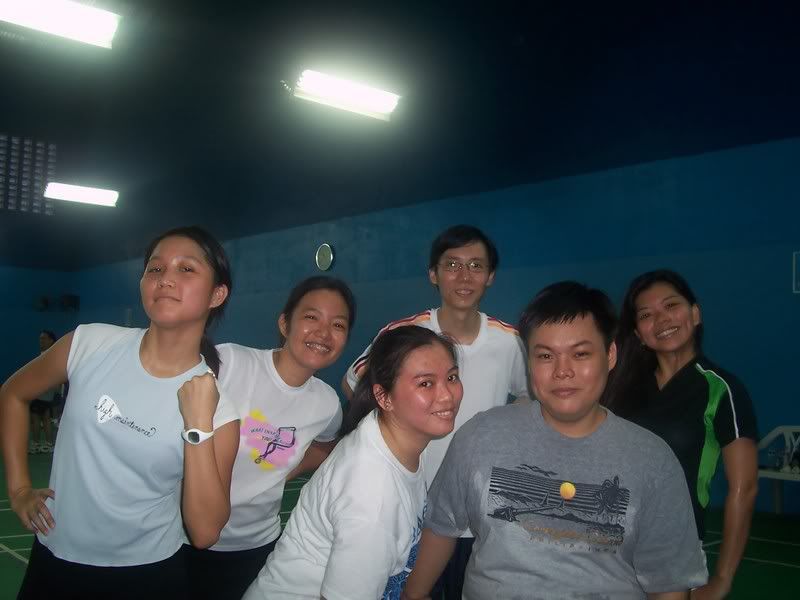 April 14, 2007
9:00 am - 11:00 am
Blue Rackets Badminton, Makati City

The morning was spent hitting some shuttlecocks at the courts. It has been a million years ago (an exaggeration) since I last played. If I remembered correctly, the last badminton game I played was the Championship game for the AIU-RP Badminton Tourney held last year. See, I told you it has really been a long "rest" for me from playing.


We all had tons of fun at the badminton courts - The Cookies, Stan, Yen, Astrid and Hazel. Well, we just played for fun really as we were just after the "sweating it out" part and enjoying each others company. Hehehe... And we are proud to say, both goals have been achieved! *wink*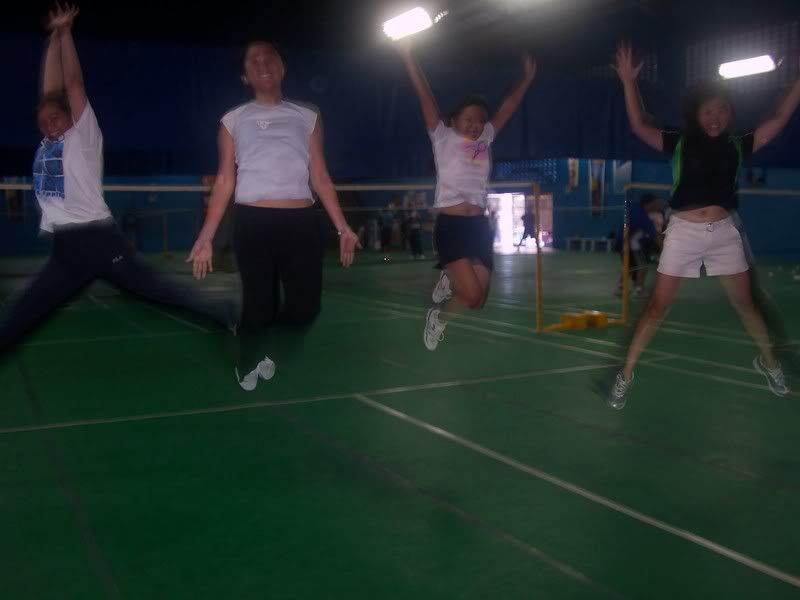 We shot tons of pictures, too. The Cookies brought a camera. Stan brought his camera and Hazel brought hers. Astrid had one, too. We are self-confessed photo-crazed people so there is really no point to elaborate why everybody had a camera that day! :P
And here is a great "jump shot" from the girls. ;)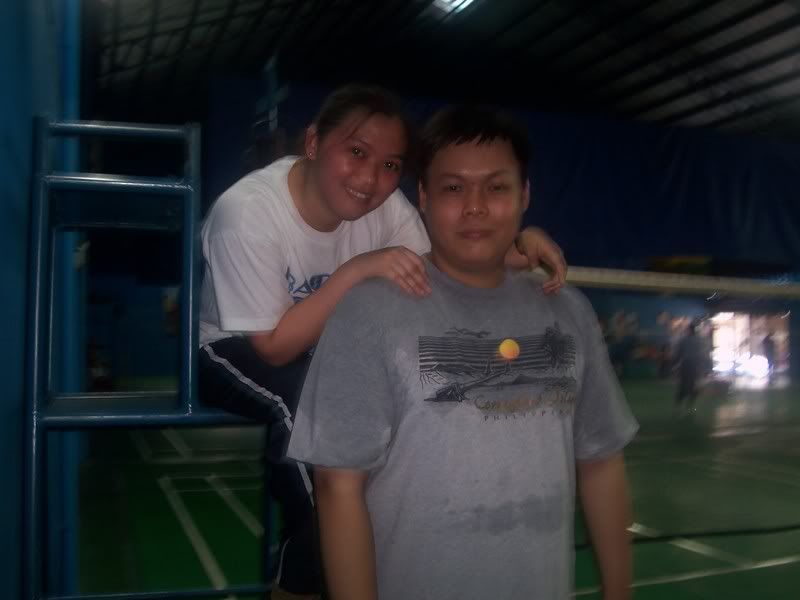 But the best part of this badminton game was that, finally, my Cookie played. And I didn't have to coerce him.
Promise!
He said he enjoyed playing the game, and I was really ecstatic about it. Too bad he fell in love with the game a little too late already. But hopefully, we'll get to play more over there. :D

12:30 pm - 4:00 pm
Redbox, Greenbelt 3, Makati City

After a whole morning of sweating it out, next stop was at Redbox in Greenbelt 3. We availed of a lunch set and 3 hours of free singing! ;) Of course, I belted out my favorite Mandy Moore hits. Do you need me to elaborate? :P
There was a dance portion, too. But that's for "private" viewing only. >:)
We even called for the waiter to take this nice photo of the group. We really looked like we were having fun. Hahaha.. Just kidding! Of course, we were having fun. :P
And again, tons and tons and TONS of funny pictures!
Here is one of my Cookie's many photos. How cute, right? He is wearing a newly purchased shirt from Nike.
After soaking the one he wore that morning of sweat from badminton, he really needed to change, and thus, a new outfit and consequently a badly wounded credit card. :P
After belting it out at Redbox, people craved for ice cream. We trooped to the Glorietta Food Choices. But in the end, nobody had ice cream. Hehehe... Some more chit chat and we had to say goodbye for now.
The Cookies went ahead to do a little shopping. And a quick "merien-dinner" at T.G.i.F's. A nice photo of the Cookies while waiting for the big plate of Mexican Nachos we ordered. ;)
And that concludes our Saturday all-day gimmick. Truly, a memory worth treasuring. Naks! ;)