April 9, 2007
Bonifacio High Street
The last day of the long holiday was spent grazing the malls - Bonifacio High Street, Serendra and Market! Market! The Cookies were with my Shobe and Cousin Rose. And did we have tons of fun!!! :)
My Cookie took us for a drive. It was nice, long and slow but nice. ;)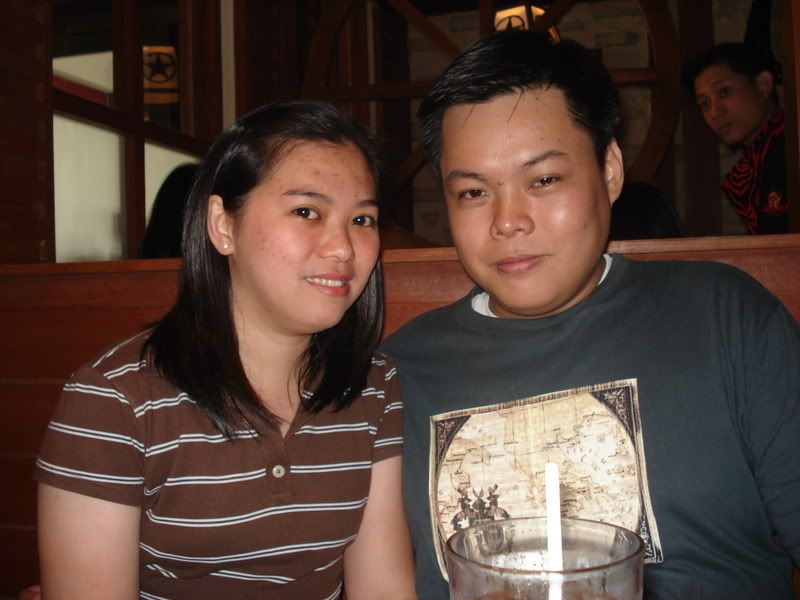 We had lunch at the Texas Roadhouse Grill (again). Since I was really happy the first time about the Seafood Marinara, we ordered that again. But this time, it failed me... The last time, everything blended well, the pasta, the tomato sauce, the shrimp and squid. That time, the food was much too spicy. The chili flakes messed it all up... I was really disappointed. Sigh. We also ordered the Grilled Pork Belly and the Sampler Platter (Onion Rings, Buffalo Wings, and Chicken Fingers). My sister said, Friday's version of the Grilled Pork Belly is better, and I think I agree with her. The Sampler Platter is adequate, but not if there are more than four people dinning together as it will not suffice, very small serving. Did not even gave the word "platter" justice... Sheesh...
Note: The above photo is taken before the pasta, reason for the nice smiles. :P
After lunch, we visited some of the stores in Bonifacio High Street while walking towards Market! Market! In Market! Market!, we watched the movie Miss Potter, starred by Renee Zellweger and Ewan McGregor. Nice movie, a good mix of visuals and dialogues. It is based on the life of children's book author Beatrix Potter, the creator of Peter Rabbit.
After the movie, we had some more time to stroll the malls. But there really is nothing much to see. Just the usual mall, and lots of people moving about. So, we decided to head back. A quick stop for some picture taking at Serendra and the Bonifacio High Street signboard.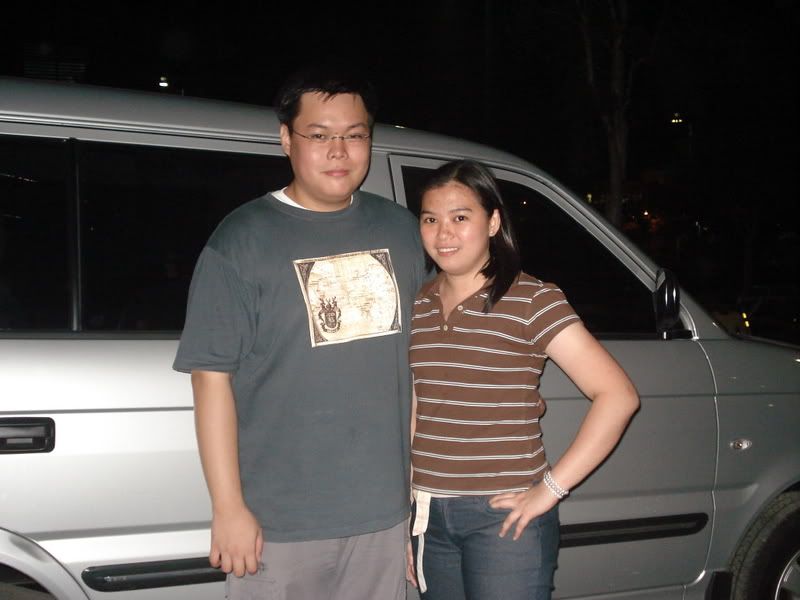 Also, we dropped
by Krispy Kreme to get some pasalubong. And we were headed for home. This is a picture of the Cookies with the Cookie Mobile. ;P
A little Princess Cookie commentary on my Cookie's driving. His driving has really improved a great deal. Smoother breaks. Every once in a while I sense his hesitation but compared to the previous drives we had, this one is definitely a better experience. Hehehehe... ;)
And that concludes a delightfully loooong weekend. :)